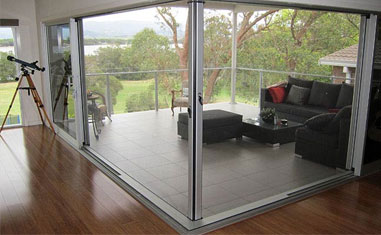 Freedom Retractable Video

The Freedom double screen is the perfect solution for discreetly screening larger openings such as double French Doors, Bi-fold Doors, stacking doors and enclosures. No centre post is required as the screens pull across to meet in the centre. Offset centre units are available for ease of use with 3 panel doors if required.
The Freedom braking system is especially useful in the double application as one screen can be pulled to the middle and locked in position simply by letting go of the handle. It will stay there held by the brake, as you bring the other handle to meet it. One screen can then be opened and closed without any fear of the other one flying back into its housing. The brake also prevents the screen from creeping and retracting back into the housing when bumped.
In its double application the Freedom Retractable Insect Screen can screen a 4 metre wide opening with a maximum height of 2.2m or up to 2.7m high if the width is less than 3m. For larger openings please refer to the Infinity screen page or you can contact us.Custom made in over 80 different colours the Freedom Retractable Insect Screen has a 50mm housing that sits unobtrusively to the side of your frame keeping unwanted insects outside while not detracting from the look of your French Doors, Bi-fold Doors or Stacker doors or Stacker doors.
Rated to 590kg and 350km/h
Freedom RetractableScreens® products are made with quality Australian aluminium and premium UV resistant fibreglass mesh. Our screens have been engineered to last.The Freedom™ Infinity Zipline™ system withstood static load testing of up to 590kg as well as a wind rating of 350km/h which exceeds cyclone conditions. These results prove the incredible strength and innovative technology of the Freedom™ mesh-to-track retention system which prevents blowouts.
TEST RESULTS
Wind rating 350 km/h (exceeds cyclone conditions)
Static weight rating 590 kg even pressure
Please note: Results are based on a 1m x 1m Freedom™ Infinity Zipline™ screen with 184mm x 0.13mm Phifer Incorporated standard Patio Mesh. Tested in Australia by ANTL, an accredited NATA Laboratory.
Freedom Retractable Screen Gallery
Get in touch with us today on (08) 6555 4950 to get retractable screen systems for your home or business