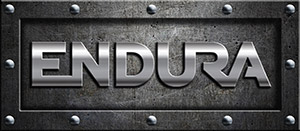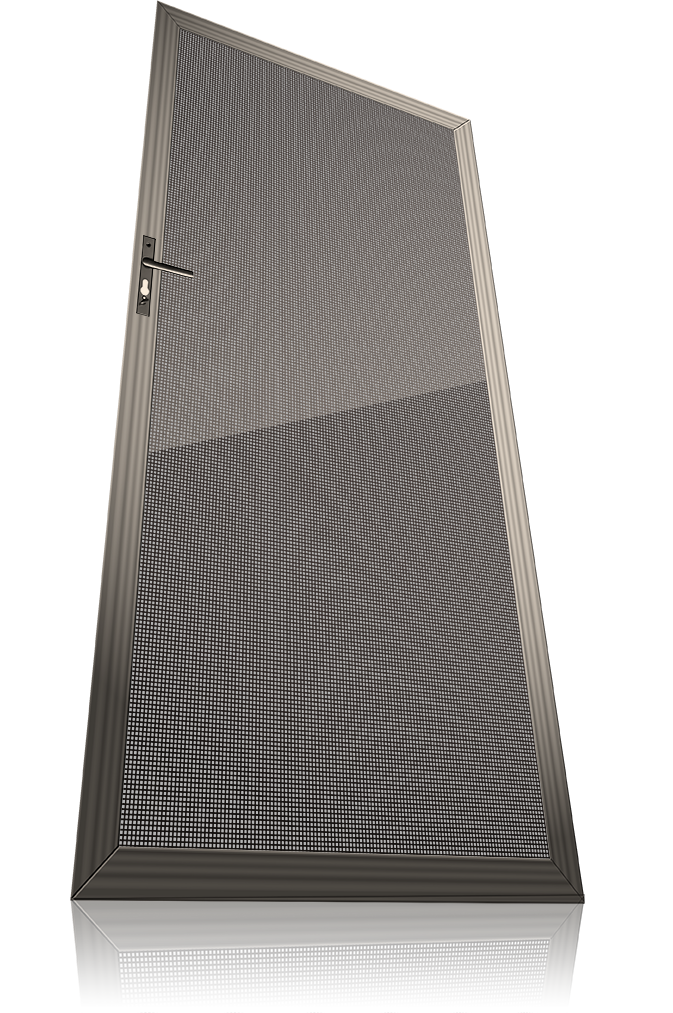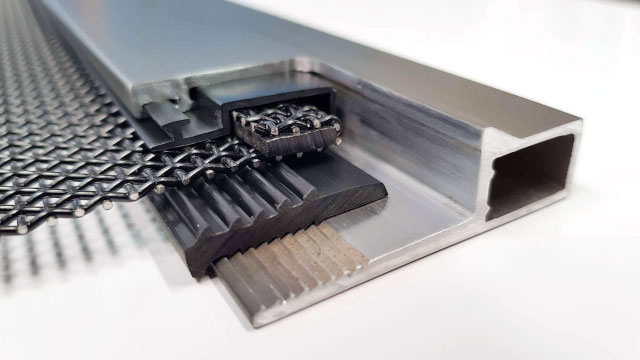 Retaining wedge secures the mesh into place, rigid insulator separates the frame from the mesh and prevents dissimilar metals from coming into contact.

Stainless steel mesh doors, also known as clear doors, are designed to look, and perform like a standard flyscreen door but when it comes to over-all security strength, nothing beats it.
Endura Stainless Steel Doors are your best option for flyscreen security on your home or business.
Endura's attractive look is thanks to well thought out design and the highest grade materials. Starting with the frame, all Endura doors are fitted using toughened aluminium which is specifically designed to completely hide the patented encapsulation system securing the mesh to the frame, meaning no visible rivets, screws or joins for a perfectly seemless look. The frame is finished using gold acredited Interpon™ powdercoating technology that completes your door with a perfect,durable, quality colour of your choice, including a highly specialised and superbly finished woodgrain effect and the latest Colorbond™ colours.
The mesh itself is designed to imitate a standard flyscreen door meaning you'll have clear, un-hindered views through the door for excellent visibility and the least amount of impact to your homes original look.
Endura security mesh is made from the finest high tensile T304 stainless steel, expertly woven in state-of-the-art facilities.
All Endura doors have the following features:
Manufactured to exceed the requirements of the Australian Standard AS 5039/40/41 – 2008
Exceed Australian Standards 4483.1 Impact Test
Exceed Australian Standards 4483.2 Knife Shear Attack Test
Exceed Salt Spray Test to withstand the equivalent of 30 years exposure.
Incorporate the Patented Secure-screw key-way locking system, creating a dual layer of stainless steel that is locked into the frame.
Rigid insulator seperates the frame from the mesh that prevents dissimilar metals from coming into contact and promoting corrosion.
Retaining wedge secures the mesh into place, it cannot be disassembled. It also seals the internal edge of the mesh.
Architectural Grade, 6063 T6 Extruded Aluminium Frame, powder coated with Interion paint technology.
Heavy Duty Corner Stakes
Heavy Duty 3-pin Parrot Beak locking system, anchors the door top, middle and bottom.
Heavy Duty Door Closer
Endura Standard Doors
Endura standard doors have all the base features of the Endura series, with the addition of;
1.0mm High Tensile Structural 304 Stainless Steel Woven Mesh
Endorsed by Quality Assurance Services and Manufactured to exceed Australian Standards AS 5039 – 2008
Heavier, streamlined frame versus other systems
Exceptional Strength Rating makes it superior to perforated aluminium systems, 0.8mm systems and 0.9mm systems.
Get in touch with us today on (08) 9535 3511 to get security doors and screens for your home or business