We offer a range of accessories and upgrades for your doors and screens including pet-doors, bolts upgrades, locking systems, handles and more!
Below is a range of products to finish off, make easier and secure better, your door or screen system.
Petway – Pet Doors
Fits simply to standard insect screen doors using adaptor bracket.
UV stabilized plastic.
Magnetic closure.
6 colours available.
Spare parts available.
Australian designed, owned & made.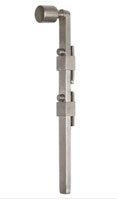 Stainless Steel Patio Bolts – Heavy Duty Door Bolts
Built from a durable, high grade stainless steel, these bolts are best suited for double door situations where the owner intends to leave the secondary door closed for extended periods of time. They require no keylock which can jam up if left un-used
for along time and are built stronger than the regular bolts for added protection.
Available in Brushed Steel finish.

Rollers & Runners – Replacement Glass and Screen Slider Rollers
We stock a great range of current and older rollers, runners, guides and more for glass and screen sliders. New rollers and runners can breathe new life into worn and damaged sliding doors. If you have a door that isn't performing the way it should, you can visit our booking page to arrange an onsite repair or if you can bring the roller in, we can match and replace it in-store.
Get in touch with us today on (08) 9535 3511 to organise an upgrade or accessory installation for your doors & screens