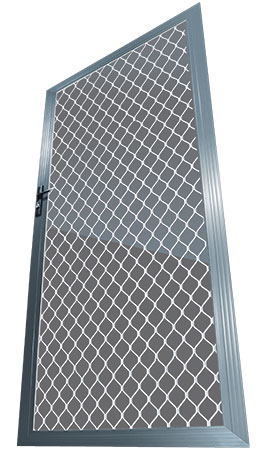 M127 Security Grille is a 2 shield product and sits confidently in the middle range of our security range. Although, this grade of grille should be considered as the entry point into the true range a security rated products.
Security Grille is built and rated to the AS5039-2003 standard meaning you can rely on this product to serve as a strong barrier for your home.
By far the most recognisable security door on the market, the M127 Security Grille is usually defined by it's diamond grille pattern that covers the entire door and is usually finished with an insect screen to keep the nasties out.
Grille security doors are built using high grade moulded aluminium grille and extruded aluminium frame.
The doors can then be finished a wide range of different mesh's to protect against insect and even resist wear and tear from pets and weather.
Grille Security doors all have a triple-pin locking system and comply to AUSTRALIAN STANDARD M127 AS5039-2003
Grille Security doors can also be upgraded to M227 Grille, M227 is a more decorative, heavier & stronger style of grille.
Both the M127 & M227 security doors offer upgrades of mesh from Ali wire, Pet Mesh, Paw Proof & DVA 1 way vision.
Get in touch with us today on (08) 9535 3511 to get security doors and screens for your home or business